Helsinki
The Capital of Finland
Helsinki specs
Helsinki is the centre of a rapidly growing large metropolitan city area.
Helsinki, together with the municipalities of the Helsinki Metropolitan Area (Espoo, Vantaa, and Kauniainen) and eight neighboring municipalities, forms an area with a population of over 1.5 million residents, which is referred to as the Helsinki Region.
Helsinki has a population of 656,920. And the population density is 3,065.6 residents per land area square kilometer.
The city of Helsinki's surface area is 715.48 km2, of which 213.75 km2 (29.9%) is land, 0.86 km² is inland waters, and 500.87 km² sea waters.
The majority of the city's green areas are forest (45.9 km²), parks (9.25 km²) and landscape fields or meadows (10.7 km²).
Helsinki is a vibrant municipality in many aspects. The average age of the population is 40.8 years in the city, the largest age group is 25-29-year-olds which comprises 63,131 Helsinki residents. Some 16 % of the residents speak a foreign language as their mother tongue.
About Helsinki
The city has many internationally popular sights and museums as well as 12 ice stadiums, 17 swimming halls and outdoor pools, 819 indoor sports facilities. There are over 1,200 kilometers of bicycle routes. Our cherished seashore includes 27 beautiful beaches and 13 winter swimming places.
In Helsinki, a park is always nearby. A third of the city consists of parks and other green areas, where different historical styles and values can be admired. We build densely so we can preserve valuable natural areas. The city is surrounded by several forests, two of which are national parks. Similarly, the archipelago fanning out from Helsinki offers an escape to nature, away from the hustle of the city. You can sense the proximity of the water everywhere, as it surrounds the city on three sides. Helsinki has 130 kilometers of shoreline, and there are more than 300 islands in the archipelago. Many of the islands are recreational areas that you can get to by taking a ferry from the mainland.
Helsinki's attractiveness comes from a clean and safe environment, a unique urban culture, and its residents' involvement in building good and functional everyday life. Events have an important role in making Helsinki an enjoyable, dynamic and attractive city. When it comes to events, Helsinki acts as a responsible developer and a trustworthy and inspiring partner. It also acts as an effective event platform and is a popular conference host. People and businesses find the city easy to work with when arranging events, big or small. Facilities and areas are easily available for all types of events. Helsinki is working to improve its competitiveness as a host of cultural and sporting events, fairs, international conferences and other large events in cooperation with groups that are active in this field.
Sport Events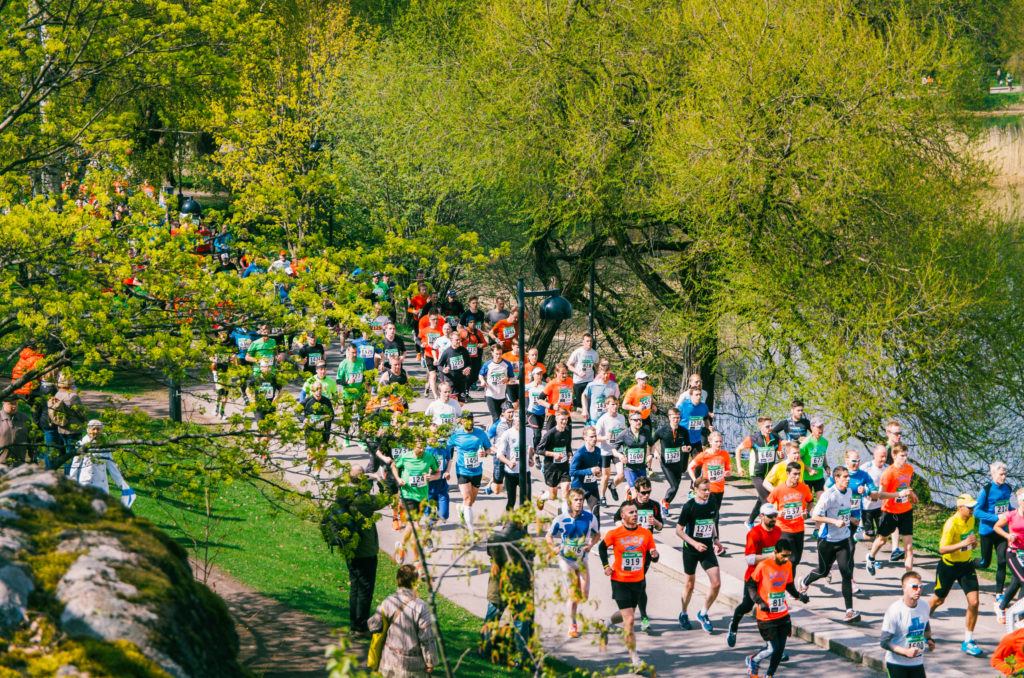 The largest running event in Finland, Helsinki City Running Day takes place in May and fills the Helsinki Olympic Stadium. Helsinki City Running Day attracts 15 000 runners from 82 nations and combines six running events of Finland into one day. There is something for everyone; Finland's largest half marathon Helsinki City Run, the 42nd Helsinki City Marathon, Helsinki City Marathon Relay which features a great team spirit, the short but sweet Helsinki City 5 and on the day before the adorable Minimarathon. Also, completing the half marathon and marathon on the same day is possible, the event is called Helsinki City Double.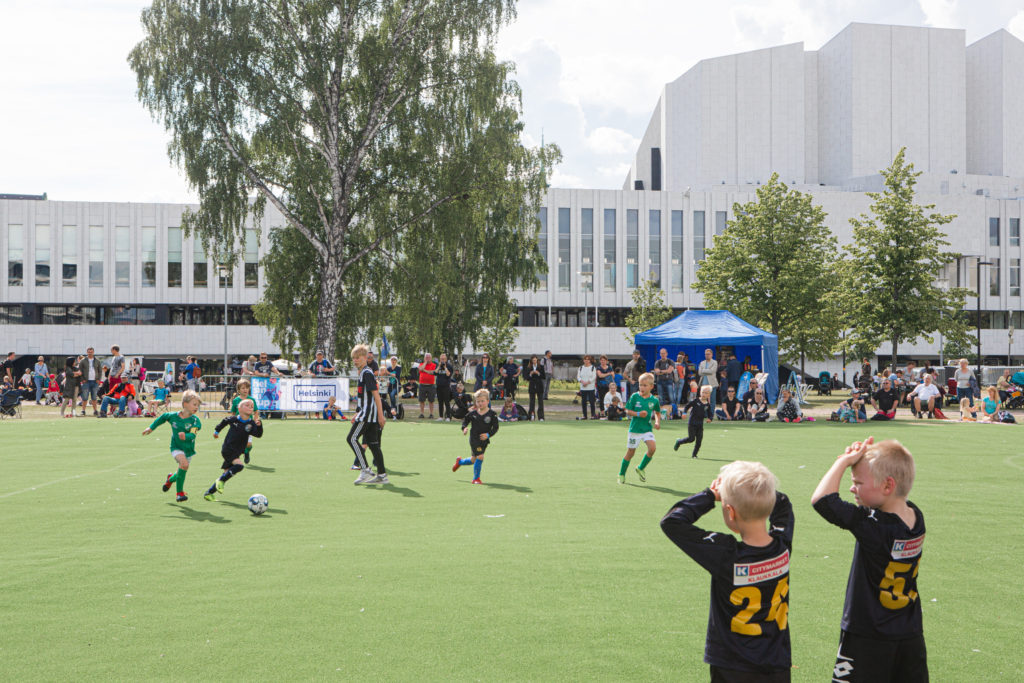 Helsinki Cup has been organized since 1976 and the tournament has established its place as a significant part of summer in Helsinki. Helsinki Cup is a huge tournament with over 20 000 participants every year. There are around 90 fields being used during the tournament week and the players are spread all around Helsinki. The city comes alive during the tournament, which is held during the Finnish holiday season.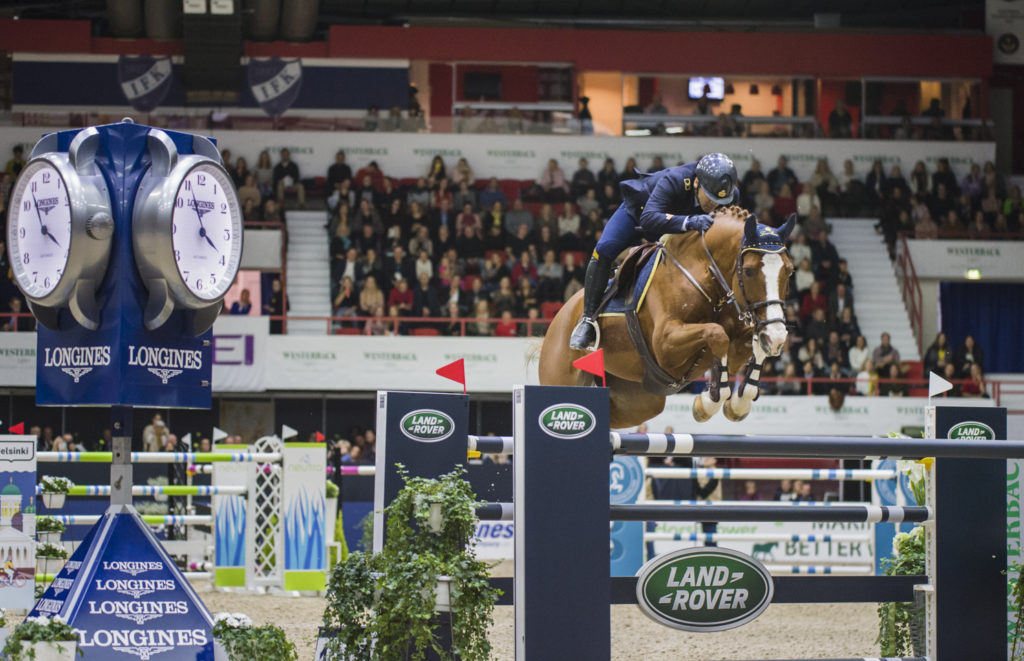 Helsinki International Horse Show
Helsinki International Horse Show welcomes the equestrian community to Helsinki in October. The show is an exciting mix of ultimate top sport and entertainment. The event attracts huge crowd of over 40 000 visitors annually. The highlights of the event are the Grand Prix and the prestigious FEI Jumping World Cup™.
Recent Major Sport Events
2017 FIFA Euro Basket (co-hosting)

2018 Cheerleading European Championships
2018 Figure Skating Grand Prix
2019  Synchronized Skating World Championships
2019 Orienteering Sprint Relay World Cup
2021  Aesthetic Group Gymnastics World Championships
2021 Floorball World Championships
2022 Ice Hockey World Championships (shared with Tampere)
2022 UEFA Super Cup
Sports Venues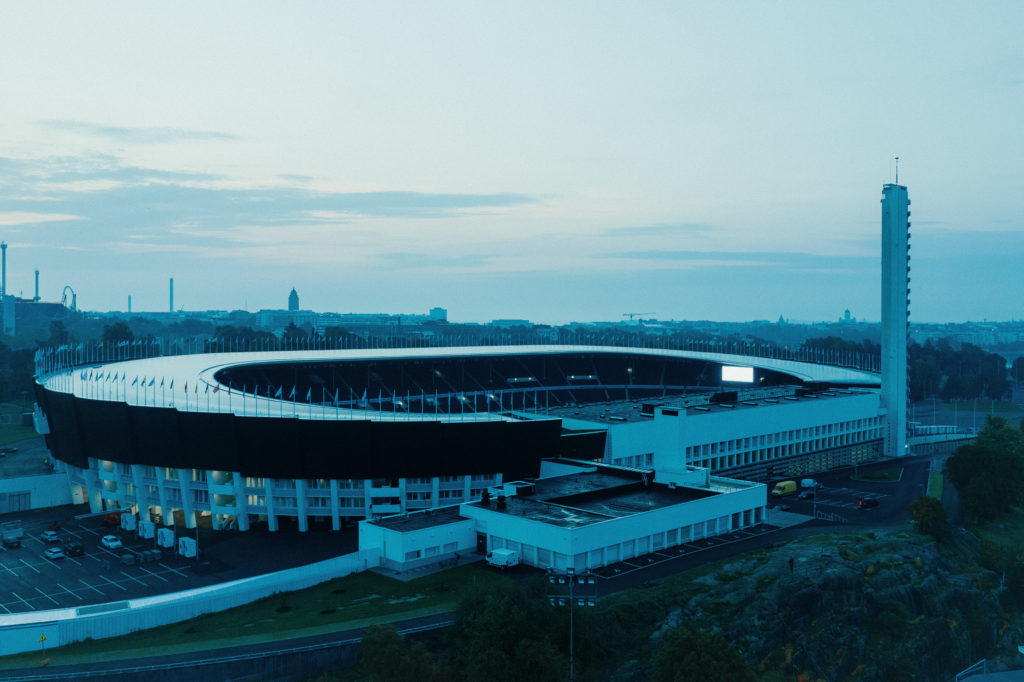 Helsinki Olympic Stadium
The Olympic Stadium is one of the most famous landmarks in Finland and Helsinki. Finland's biggest stadium was reopened after renovation in August 2020 as a multipurpose arena that stands the requirements of major international events.  The stadium seating capacity is 36,200 while the capacity in concerts is as high as 50,000 spectators.
The stadium is located about 2.3 kilometers (1.4 mi) from the center of Helsinki.
Bolt Arena
Bolt Arena is a turfpitch football stadium, located next to the Olympic Stadium, with a capacity of 10,770 spectators. It is also the home stadium of the Helsinki-based football teams HJK and HIFK.
Helsinki Ice Hall
Helsinki Ice Hall is an indoor arena located next to the Olympic Stadium. The arena has a seating capacity of 8,400.
Urhea, The National Olympic Training Center Helsinki
The Urhea campus is Finland's most significant sports center. The National Olympic Training Center Helsinki (NOTCH) offers training space to Olympic training center athletes, sports academy athletes, clubs and sports school students every day of the week. 10,000 athletes use the gym each year, with the number of individual visits rising to one million.
Urhea Hall is primarily a center for the daily training of basketball, but the courts are easy to convert into an event arena by pulling out the 1 100 auditorium seats.
More about HELSINKI